CISCO Scholarship Program Applications Available – Entry Deadline February 21, 2014
CISCO is now accepting applications for its 2014 Scholarship Program.  One additional program category was added last year to enable a wider range of the children of both building trade union members and union contractor employees to apply.  Click on the highlighted categories below to download the appropriate application that fits your interest.
CISCO now offers (2)
four-year scholarships
($2,000/year) to high school seniors; (2),
two-year awards
($1,000/year) for seniors planning to attend a community college; and (2), two-year
continuing education awards
($1,000/year) to union members or contractor employees.  To read more about the 2014 scholarship program,
click here
.  For more information about the program, call CISCO at 630-472-9411.
2013 CISCO Scholarship Winners Honored
Winners of last year's CISCO
scholarship awards
were presented with their checks and commemorative plaques during the recent Annual Luncheon.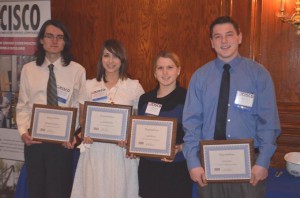 Pictured above are from left: Benjamin McManamon, Amanda Roszkowiak, Caitlin McCully and Ryan Treacy.  Not pictured is Kevin McIntyre.
Congratulations goes out to the following students who will receive their awards at CISCO's 25th Anniversary Luncheon on Friday, April 19th at Maggiano's Little Italy in Schaumburg:
Caitlin McCully - Lincoln-Way North HS – 4-year scholarship.
Benjamin McManamon - Whitney Young HS – 4-year scholarship.
Amanda Roszkowiak - Barlett HS – 2-year scholarship.
Kevin McIntyre - Lincoln-Way East HS – 2-year scholarship).
Ryan Treacy - Laborers Local #4 - Continuing Education scholarship.