CISCO Board Expands 2016 Scholarship Program – Application Deadline Feb. 19, 2016
CISCO's long-standing Scholarship Program has begun to accept applications in three different categories.  Recently, the CISCO Board added a third, 4-year scholarship for high school seniors who are planning on attending a 4-year university or college.  The other two categories are for seniors who plan on attending a two-year community college, and for building trade or contractor employees who are returning to school for continuing education purposes.
To read the details of the program categories, click here.  To download any or all of the application forms, click on the following links: Four-year scholarship; Two-year scholarship; Continuing Education scholarship.  For more information, call CISCO at 630-472-9411.
2015 CISCO Scholarship Winners Announced 
Congratulations to the following students who were notified recently for winning CISCO's 2015 scholarships:  Four-year award – Katelyn Castiglia – Buffalo Grove HS and Patrick Hosty – Brother Rice HS.
Two-year awards (Community College attendees) were
Paige O'Brien
– Hartsburg-Emden Jr. / Sr. High School and
Jay Farkas
– Carl Sandburg HS.  For more details about the winners and where they plan to attend college,
click here
to read the press release.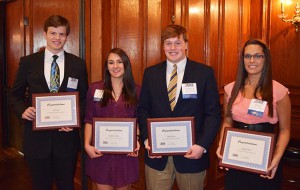 Pictured from left are: Jay Farkas, Katelyn Castiglia, Patrick Hosty and Paige O'Brien.